Anatomy - (2000) - Netflix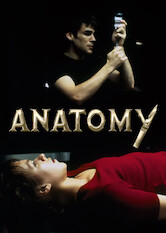 Hoe u elke film en tv-show op Netflix kunt deblokkeren, ongeacht waar u bent
1h39m -
Horror
A young medical student uncovers a horrifying secret society of surgeons who will do anything to get their hands on interesting specimens.
Regisseur:

Stephan Ruzowitzky

,

Stefan Ruzowitzky

Rolverdeling:

Sebastian Blomberg

,

Traugott Buhre

,

Anna Loos

,

Holger Speckhahn

,

Benno Furmann

,

Oliver Wnuk

,

Arndt Schwering-Sohnrey

,

Franka Potente

Netflix-classificatie:

6.1/5
Score van Rotten Tomatoes:
0/100
Landen waar beschikbaar

Niet beschikbaar waar je woont? Leer hoe je Netflix ontgrendelt en bekijk deze titel.

Beschikbaar sinds:
2020-04-01
Soortgelijke titels:

Korte inhoud:
Medical student Paula Henning wins a place at an exclusive Heidelberg medical school. When the body of a young man she met on the train turns up on her dissection table, she begins to investigate the mysterious circumstances surrounding his death, and uncovers a gruesome conspiracy perpetrated by an Antihippocratic secret society operating within the school.
Andere titels die nu worden bekeken