Fida - (2004) - Netflix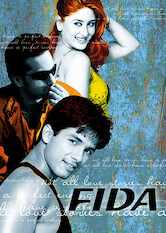 Hoe u elke film en tv-show op Netflix kunt deblokkeren, ongeacht waar u bent
1h56m -
Romance
An all-around nice guy finds himself in a dangerous situation after he makes the ultimate sacrifice for the woman he loves in this drama.
Regisseur:

Ken Ghosh

Rolverdeling:

Fardeen Khan

,

Kareena Kapoor

,

Shahid Kapoor

,

Kim Sharma

,

Akhilendra Mishra

Netflix-classificatie:

5.5/5
Score van Rotten Tomatoes:
59/100
Landen waar beschikbaar

Niet beschikbaar waar je woont? Leer hoe je Netflix ontgrendelt en bekijk deze titel.

Beschikbaar sinds:
2020-10-14
Soortgelijke titels:

Korte inhoud:
Fida tells the story of Jai who one day happen to meet a young and beautiful woman called Neha and he falls in love with her at first sight. However trying to persuade Neha was in vane to Jai, because she has no such feelings for him as he has for her. Jai turn crazy in love with Neha and couldn't find no more alternative to persuade her than suicide but his suicide attempt is unsuccessful since he is save by his best friend and Neha finally falls in love with Jai. Little by little Jai began to know that he is in love with a criminal daughter and her father owes 60 million to the underworld don. Jai decides to help Neha by grabbing the money for her because he is in love with her, to fulfilled his motive he decides to rob a bank but follow computer hacker Vikram to his house where he was trapped in a net. Neha his love turn against him and goes towards Vikram. The two accounts that were hacked by the bank belongs to underworld don Babu Anna and he also begins to chase Jai. Jai now has to run form the police and Babu Anna. But in the final showdown Jai was forced to kill Neha and rein Vikram in such a way that he had to distribute the remaining money to charity.
Andere titels die nu worden bekeken