Bazaar - (1982) - Netflix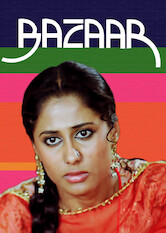 Hoe u elke film en tv-show op Netflix kunt deblokkeren, ongeacht waar u bent
2h1m -
Dramas
A young man challenges traditional customs by standing up to the father of the woman he loves, who has promised her to a wealthy expatriate.
Regisseur:

Sagar Sarhadi

Rolverdeling:

Farooq Shaikh

,

Smita Patil

,

Naseeruddin Shah

,

Rita Rani Kaul

,

Malika

,

Supriya Pathak

,

Bharat Kapoor

Netflix-classificatie:

7.3/5
Score van Rotten Tomatoes:
0/100
Landen waar beschikbaar

Niet beschikbaar waar je woont? Leer hoe je Netflix ontgrendelt en bekijk deze titel.

Beschikbaar sinds:
2019-12-31
Soortgelijke titels:

Korte inhoud:
Najma and Salim are in love, but their's is a platonic relationship, as Salim is a deep thinker and prefers that women like Najma be financially independent, and not be dependent on men. On the other hand, Sarju and Shabnam are in love, and would like to get married, however, Shabnam's dad has finalized her marriage with a much older man, who is wealthy, and has shown an interest in Shabnam. An engagement ceremoney takes place with this older gentleman, and Shabnam. Sarju, though devastated, must now attempt to convince Shabnam's dad, as well as Shabnam's future husband, to change their respective minds, and let him marry Shabnam, with results that will change their lives forever.
Andere titels die nu worden bekeken