Kuroko's Basketball - (2015) - Netflix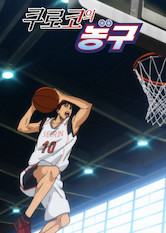 TV Shows
Five middle school basketball stars went to separate high schools, and now Tetsuya Kuroko and Seirin High are making their play for glory.
Regisseur:
-
Rolverdeling:

Hiroshi Kamiya

,

Chiwa Saito

,

Go Inoue

,

Kenichi Suzumura

,

Kisho Taniyama

,

Yoshimasa Hosoya

,

Soichiro Hoshi

,

Kensho Ono

,

Kenji Hamada

,

Tatsuhisa Suzuki

,

Ryohei Kimura

,

Takuya Eguchi

,

Junichi Suwabe

,

Daisuke Ono

,

Fumiko Orikasa

,

Kazuya Nakai

,

Hirofumi Nojima

,

Yuki Ono

Netflix-classificatie:

8.3/5
Score van Rotten Tomatoes:
0/100
Landen waar beschikbaar

Niet beschikbaar in uw regio? Meldt u aan voor ExpressVPN voor het ontgrendelen van Netflix!

Beschikbaar sinds:
2019-05-15
Soortgelijke titels:

Korte inhoud:
The Teiko Middle School Basketball Team. The school that produced three perfect seasons in a row, with five once-in-a generation players, called 'The Generation of Miracles.' There was another player who all of them respected... A legendary 6th player. An up-and-coming power player, Taiga Kagami, is just back from America. When he comes to Seirin High School, he meets the super-ordinary boy, Tetsuya Kuroko. Kagami is shocked to find that Kuroko isn't good at basketball, in fact, he's bad! And he's so plain that he's impossible to see. But Kuroko's plainness lets him pass the ball around without the other team noticing him, and he's none other than the sixth member of the Miracle Generation. Kuroko makes a pact with Kagami to defeat the other members of the Miracle Generation, who have all played basketball at other schools. A battle of light (Kagami) and shadow (Kuroko) begins!
Andere titels die nu worden bekeken