Atomic Blonde - (2017) - Netflix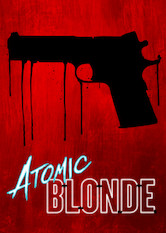 1h54m -
Action & Adventure
1h54m -
Action & Adventure
After another spy's murder, MI6 operative Lorraine Broughton must find a missing list of double agents, identify a traitor and escape with her life.
Regisseur:

David Leitch

Rolverdeling:

Sofia Boutella

,

Eddie Marsan

,

Bill Skarsgard

,

Sam Hargrave

,

James Faulkner

,

Johannes Haukur Johannesson

,

Roland Moller

,

James McAvoy

,

John Goodman

,

Toby Jones

,

Charlize Theron

,

Til Schweiger

Netflix-classificatie:

6.7/5
Score van Rotten Tomatoes:
0/100
Landen waar beschikbaar

Niet beschikbaar in uw regio? Meldt u aan voor ExpressVPN voor het ontgrendelen van Netflix!

Beschikbaar sinds:
2019-05-15
Trailer:
Soortgelijke titels:

Korte inhoud:
The crown jewel of Her Majesty's Secret Intelligence Service, Agent Lorraine Broughton (Theron) is equal parts spycraft, sensuality and savagery, willing to deploy any of her skills to stay alive on her impossible mission. Sent alone into Berlin to deliver a priceless dossier out of the destabilized city, she partners with embedded station chief David Percival (James McAvoy) to navigate her way through the deadliest game of spies.
Andere titels die nu worden bekeken