Rage of Bahamut: Genesis - (2014) - Netflix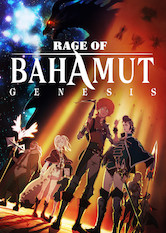 TV Shows
Long after the fearsome Bahamut was sealed away, one woman steals half the key from the gods. The race is on to prevent an ancient terror's release.
Regisseur:
-
Rolverdeling:

Megumi Han

,

Miyuki Sawashiro

,

Hiroaki Hirata

,

Hiroshi Iwasaki

,

Go Inoue

,

Hiroyuki Yoshino

,

Risa Shimizu

,

Showtaro Morikubo

,

Yutaka Aoyama

,

Kyle Phillips

,

Sonny Strait

Netflix-classificatie:

7.4/5
Score van Rotten Tomatoes:
0/100
Landen waar beschikbaar

Niet beschikbaar in uw regio? Meldt u aan voor ExpressVPN voor het ontgrendelen van Netflix!

Beschikbaar sinds:
2019-07-17
Soortgelijke titels:

Korte inhoud:
Mistarcia is a magical world where humans, gods, and demons mingle together. In the past, the black-and-silver winged Bahamut has threatened to destroy the land, but humans, gods, and demons overcame their differences to fight together and seal its power. The key to that seal was split in two, one half given to the gods and the other to demons, so that they would never be united and Bahamut never released. Now, two thousand years later, the world is in an era of peace - until the day a woman steals the gods' half of the key.
Andere titels die nu worden bekeken