Bosta - (2005) - Netflix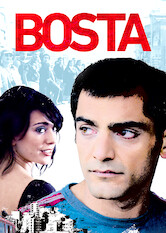 Hoe u elke film en tv-show op Netflix kunt deblokkeren, ongeacht waar u bent
1h52m -
Dramas
After 15 years in France, Kamal returns to his native Beirut and reassembles his dance crew, striving to modernize traditional Dabke routines.
Regisseur:

Philippe Aractingi

Rolverdeling:

Rodney El Haddad

,

Nadine Labaky

,

Nada Abou Farhat

,

Liliane Nemri

,

Omar Rajeh

,

Mounir Malaeb

,

Bshara Atallah

,

Rana Alamuddin

,

Joelle Rizk

,

Mahfouz Barakat

,

Mahmoud Mabsout

,

Bader Haddad

,

Youssef Emalhoub

Netflix-classificatie:

6.6/5
Score van Rotten Tomatoes:
59/100
Landen waar beschikbaar

Niet beschikbaar waar je woont? Leer hoe je Netflix ontgrendelt en bekijk deze titel.

Beschikbaar sinds:
2020-10-19
Soortgelijke titels:

Korte inhoud:
Fifteen years after a traumatic explosion in his native Beirut, Kamal Maf'ouss returns from France, where he was nationalized and become a composer-choreographer. He reassembles youth friends from his late pa's multicultural school. They pimp a decommissioned school bus to tour the country in preparation of Lebanon's annual festival of the choral dance-song genre Debka. Opinions clash on their modern, cosmopolitan version of a traditional genre, even among their friends and family, while other personal problems complicate matters further.
Andere titels die nu worden bekeken