What Men Want - (2019) - Netflix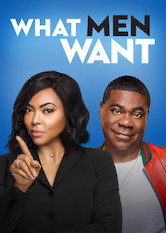 Hoe u elke film en tv-show op Netflix kunt deblokkeren, ongeacht waar u bent
1h57m -
Comedies
After being passed over for a promotion, an ambitious woman uses her newfound ability to hear men's thoughts to score big at a macho sports agency.
Regisseur:

Adam Shankman

Rolverdeling:

Roshawn Franklin

,

Jay DeVon Johnson

,

Taraji P. Henson

,

Kellan Lutz

,

Jason Jones

,

Tamala Jones

,

Max Greenfield

,

Wendi McLendon-Covey

,

Brian Bosworth

,

Aldis Hodge

,

Tracy Morgan

,

Kristen Ledlow

,

Josh Brener

Netflix-classificatie:

5.1/5
Score van Rotten Tomatoes:
0/100
Landen waar beschikbaar

Niet beschikbaar waar je woont? Leer hoe je Netflix ontgrendelt en bekijk deze titel.

Beschikbaar sinds:
2019-09-30
Trailer:
Soortgelijke titels:

Korte inhoud:
A woman is boxed out by the male sports agents in her profession, but gains an unexpected edge over them when she develops the ability to hear men's thoughts.
Andere titels die nu worden bekeken