Octonauts and the Caves of Sac Actun - (2020) - Netflix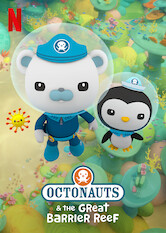 Hoe u elke film en tv-show op Netflix kunt deblokkeren, ongeacht waar u bent
47m -
Music
In this musical special, the Octonauts must find a way to hold back hungry swarms of coral-eating starfish to save a new friend's fragile reef home.
Regisseur:

Blair Simmons

Rolverdeling:

Simon Greenall

,

Rob Rackstraw

,

Jo Wyatt

,

Paul Buckley

,

Simon Foster

,

Teresa Gallagher

,

Richard Grieve

,

Michael Murphy

,

Paul Panting

,

Keith Wickham

Netflix-classificatie:

6.5/5
Score van Rotten Tomatoes:
NA
Landen waar beschikbaar

Niet beschikbaar waar je woont? Leer hoe je Netflix ontgrendelt en bekijk deze titel.

Beschikbaar sinds:
2020-10-14
Soortgelijke titels:

Korte inhoud:
The Octonauts embark on an underwater adventure, navigating a set of challenging caves to help a small octopus friend return home to the Caribbean Sea.
Andere titels die nu worden bekeken