The Trial of the Chicago 7 - (2020) - Netflix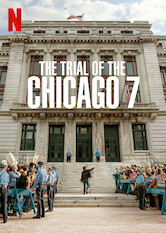 Hoe u elke film en tv-show op Netflix kunt deblokkeren, ongeacht waar u bent
2h10m -
Dramas
What was supposed to be a peaceful protest turned into a violent clash with the police. What followed was one of the most notorious trials in history.
Regisseur:

Aaron Sorkin

Rolverdeling:

Sacha Baron Cohen

,

Eddie Redmayne

,

Yahya Abdul-Mateen II

,

Jeremy Strong

,

Mark Rylance

,

Joseph Gordon-Levitt

,

Michael Keaton

,

Frank Langella

,

John Carroll Lynch

,

Alex Sharp

,

John Doman

,

Ben Shenkman

Netflix-classificatie:

7.5/5
Score van Rotten Tomatoes:
NA
Landen waar beschikbaar

Niet beschikbaar waar je woont? Leer hoe je Netflix ontgrendelt en bekijk deze titel.

Beschikbaar sinds:
2020-10-17
Trailer:
Soortgelijke titels:

Korte inhoud:
The story of 7 people on trial stemming from various charges surrounding the uprising at the 1968 Democratic National Convention in Chicago, Illinois.
Andere titels die nu worden bekeken