The Princess Switch: Switched Again - (2020) - Netflix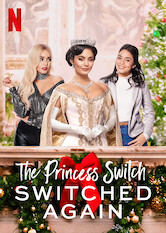 Hoe u elke film en tv-show op Netflix kunt deblokkeren, ongeacht waar u bent
1h37m -
Dramas
When Margaret's Christmas coronation complicates her love life, her double Stacy steps in to save the day. But will a third look-alike ruin their plan?
Regisseur:

Mike Rohl

Rolverdeling:

Vanessa Hudgens

,

Nick Sagar

,

Sam Palladio

,

Mia Lloyd

,

Lachlan Nieboer

,

Ricky Norwood

,

Florence Hall

,

Suanne Braun

,

Mark Fleischmann

Netflix-classificatie:

0.0/5
Score van Rotten Tomatoes:
NA
Landen waar beschikbaar

Niet beschikbaar waar je woont? Leer hoe je Netflix ontgrendelt en bekijk deze titel.

Beschikbaar sinds:
2020-11-20
Trailer:
Soortgelijke titels:

Korte inhoud:
When Duchess Margaret unexpectedly inherits the throne to Montenaro and hits a rough patch with Kevin, it's up to her double Stacy to save the day before a new lookalike, party girl Fiona foils their plans.
Andere titels die nu worden bekeken