Our Evil - (2017) - Netflix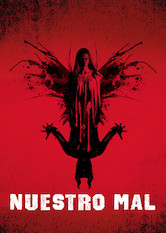 1h32m -
Horror
When a man with paranormal ability learns that his daughter is in danger, he seeks the aid of a black-hearted killer to help protect her.
Regisseur:

Samuel Galli

Rolverdeling:

Sonia Moreno

,

Fernando Cardoso

,

Ademir Esteves

,

Walderrama Dos Santos

,

Luara Pepita

,

Antony Mello

,

Ricardo Casella

,

Maria Clara Goncalves

,

Gabriela Grecco

,

Shirley Viana

,

Maria Galves

,

Thais Prates

,

Reinaldo Colmanetti

Netflix-classificatie:

5.5/5
Score van Rotten Tomatoes:
0/100
Landen waar beschikbaar

Niet beschikbaar in uw regio? Meldt u aan voor ExpressVPN voor het ontgrendelen van Netflix!

Beschikbaar sinds:
2019-07-08
Soortgelijke titels:

Korte inhoud:
A man with spiritualist powers is told by his mentor that a demonic entity is returning to destroy his daughter's soul, and that he should take drastic measures to prevent this from happening.
Andere titels die nu worden bekeken