The Massively Mixed-Up Middle School Mystery - (2015) - Netflix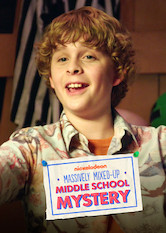 Hoe u elke film en tv-show op Netflix kunt deblokkeren, ongeacht waar u bent
40m -
Comedies
After the school principal gets pranked, a curious crew of preteen super sleuths tests their detective skills to solve an underwater ruse.
Regisseur:

Will Eisenberg

Rolverdeling:

Garrett Ryan

,

Richard Balin

,

Brianne Tju

,

Adam Hochstetter

,

Jenna Ortega

,

Celestial

,

Aaron Eisenberg

,

Haley Tju

Netflix-classificatie:

7.4/5
Score van Rotten Tomatoes:
0/100
Landen waar beschikbaar

Niet beschikbaar waar je woont? Leer hoe je Netflix ontgrendelt en bekijk deze titel.

Beschikbaar sinds:
2019-11-02
Soortgelijke titels:

Korte inhoud:
When the ultimate prank sends their principal under water, it's up to Everett, Alyssa and Riley to put their super detective skills to the test, catch the perp, and save their school's first dance in 40 years.
Andere titels die nu worden bekeken