Peppa Pig: My First Cinema Experience - (2017) - Netflix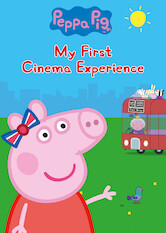 Hoe u elke film en tv-show op Netflix kunt deblokkeren, ongeacht waar u bent
1h10m -
British Movies
Sing, laugh and play along with Peppa Pig and her lovely pals as they travel to London, Australia and other adventurous places.
Regisseur:

Mark Baker

Rolverdeling:

Oliver May

,

Sarah Ann Kennedy

,

David Graham

,

Alice May

,

Richard Ridings

,

John Sparkes

,

Harley Bird

,

Morwenna Banks

,

Emma Grace Arends

,

Alexander Armstrong

,

Stara Bal

Netflix-classificatie:

4.1/5
Score van Rotten Tomatoes:
0/100
Landen waar beschikbaar

Niet beschikbaar waar je woont? Leer hoe je Netflix ontgrendelt en bekijk deze titel.

Beschikbaar sinds:
2019-12-31
Trailer:
Soortgelijke titels:

Korte inhoud:
A 72 minute theatrical release comprised of previously unreleased episodes and musical interludes of the animated television series featuring stage-show versions of Peppa Pig and her brother George.
Andere titels die nu worden bekeken