Bittersweet - (2010) - Netflix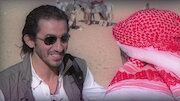 Hoe u elke film en tv-show op Netflix kunt deblokkeren, ongeacht waar u bent
2h11m -
Comedies
After 20 years abroad, a photographer returns to his birth country of Egypt and gets stranded without identification in a now unfamiliar culture.
Regisseur:

Debi Lang

,

Jan Kohler

,

Khaled Marei

Rolverdeling:

Lotfy Labib

,

Ahmed Helmy

,

Edward

,

Enaam Salousa

Netflix-classificatie:

0.0/5
Score van Rotten Tomatoes:
0/100
Landen waar beschikbaar

Niet beschikbaar waar je woont? Leer hoe je Netflix ontgrendelt en bekijk deze titel.

Beschikbaar sinds:
2020-04-17
Soortgelijke titels:

Korte inhoud:
In 2008, fifteen year old Discovery School student, Jan Kohler, volunteered as a translator for the humanitarian organization Cape CARES in the rural Honduran village of San Marcos. During his trip, he took many photographs. Inspired by his experience, he returned to San Marcos in 2009 for a second mission. While there, he photographed the children of the village. Jan produced a photo essay about children of this village who have forever captured his heart. Jan hopes his photography will inspire others, specifically young people, to participate in humanitarian endeavors. His photograph entitled 'Pensive Minds' was chosen for the DVD cover of Luigi Breve's 2009 award winning documentary 'Return To San Marcos'.
Andere titels die nu worden bekeken