The Wasteland - (2022) - Netflix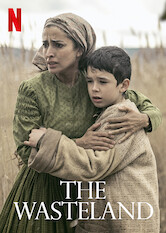 Hoe u elke film en tv-show op Netflix kunt deblokkeren, ongeacht waar u bent
1h33m -
Horror
A 19th-century family living in seclusion is visited by an evil being that feeds on fear. Can little Diego save his mother from the beast — and herself?
Regisseur:

David Casademunt

Rolverdeling:

Inma Cuesta

,

Asier Flores

,

Roberto Álamo

,

Marià Llop

,

Victor Benjumea

,

Alejandra Howard

Netflix-classificatie:

6.4/5
Score van Rotten Tomatoes:
NA
Landen waar beschikbaar

Niet beschikbaar waar je woont? Leer hoe je Netflix ontgrendelt en bekijk deze titel.

Beschikbaar sinds:
2022-01-06
Trailer:
Soortgelijke titels:

Korte inhoud:
A remote brick manufacture factory produces bricks in an ancient way. Many families with different ethnicities work in the factory and the boss seems to hold the key to solving their problems. Forty-year-old Lotfollah who has been born on-site is the factory supervisor and acts as go-between for the workers and the boss. Boss has Lotfollah gather all the workers in front of his office. He wants to talk to them about the shutdown of the factory. All matters now to Lotfollah is to keep Sarvar unharmed the woman he has been in love with for a long time.
Andere titels die nu worden bekeken