Disconnect - (2018) - Netflix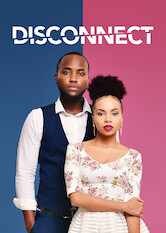 Hoe u elke film en tv-show op Netflix kunt deblokkeren, ongeacht waar u bent
1h47m -
Comedies
A group of singletons stumbles through the wild dating scene in Nairobi as two friends wonder if their relationship is more than platonic.
Regisseur:

Michael Jones

,

David 'Tosh' Gitonga

Rolverdeling:

Brenda Wairimu

,

Nick Mutuma

,

Catherine Kamau

,

Pascal Tokodi

,

Patricia Kihoro

,

Pierra Makena

,

Bridget Shighadi

,

Brian Ogola

,

Illya Frank

,

Aseem Sharma

,

Arthur Sanya

,

Justin Mirichii

,

Maqbul Mohammed

Netflix-classificatie:

7.5/5
Score van Rotten Tomatoes:
70/100
Landen waar beschikbaar

Niet beschikbaar waar je woont? Leer hoe je Netflix ontgrendelt en bekijk deze titel.

Beschikbaar sinds:
2020-10-16
Trailer:
Soortgelijke titels:

Korte inhoud:
A hard-working lawyer, attached to his cell phone, can't find the time to communicate with his family. A couple is drawn into a dangerous situation when their secrets are exposed online. A widowed ex-cop struggles to raise a mischievous son who cyber-bullies a classmate. An ambitious journalist sees a career-making story in a teen that performs on an adult-only site. They are strangers, neighbors and colleagues and their stories collide in this riveting dramatic thriller about ordinary people struggling to connect in today's wired world.
Andere titels die nu worden bekeken