2040 - (2019) - Netflix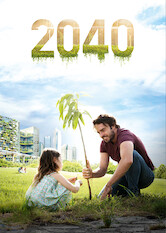 Hoe u elke film en tv-show op Netflix kunt deblokkeren, ongeacht waar u bent
1h32m -
-
This documentary explores practical, existing ways to fight climate change and ensure a healthy future for generations to come.
Regisseur:

Damon Gameau

Rolverdeling:

Damon Gameau

Netflix-classificatie:

7.2/5
Score van Rotten Tomatoes:
100/100
Landen waar beschikbaar

Niet beschikbaar waar je woont? Leer hoe je Netflix ontgrendelt en bekijk deze titel.

Beschikbaar sinds:
2022-01-07
Trailer:
Korte inhoud:
2040 is an innovative feature documentary that looks to the future but is vitally important NOW. Award-winning director Damon Gameau embarks on journey to explore what the future would look like by the year 2040 if we simply embraced the best solutions already available to us to improve our planet and shifted them into the mainstream. Structured as a visual letter to his 4-year-old daughter Damon blends traditional documentary footage with dramatized sequences and high-end visual effects to create a vision board for his daughter and the planet.
Andere titels die nu worden bekeken