Carter - (2022) - Netflix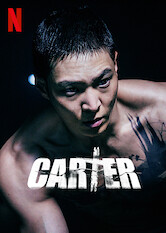 2h14m -
Action & Adventure
Hoe u elke film en tv-show op Netflix kunt deblokkeren, ongeacht waar u bent
2h14m -
Action & Adventure
A man wakes up missing his memories. Directed by a mysterious voice from a device in his ear, he sets off on a hostage rescue mission rife with danger.
Regisseur:

Jung Byung-gil

Rolverdeling:

Lee Sung-jae

,

Joo Won

,

Jeong So-ri

,

Kim Bo-min

Netflix-classificatie:

6.5/5
Score van Rotten Tomatoes:
NA
Landen waar beschikbaar

Niet beschikbaar waar je woont? Leer hoe je Netflix ontgrendelt en bekijk deze titel.

Beschikbaar sinds:
2022-08-05
Soortgelijke titels:

Korte inhoud:
When Harley Carter was a teenager he experienced 15 minutes of fame when he solved the mystery of a serial killer plaguing his small town. Now years later Harley has become a famous Hollywood actor playing a grown-up version of what he actually was as a kid. And it's wearing on him. After an embarrassing public meltdown in Hollywood Harley returns to his hometown to take a break but finds that he can't leave solving mysteries behind. Carter taps into his acting experience to become a real-life detective partnering with (and reconnecting to) his childhood friends no-nonsense police veteran Sam Shaw and witty street-wise coffee truck owner Dave Leigh.
Andere titels die nu worden bekeken