Binti - (2021) - Netflix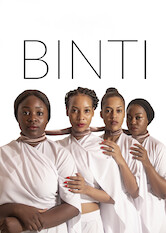 Hoe u elke film en tv-show op Netflix kunt deblokkeren, ongeacht waar u bent
1h38m -
Dramas
Four women persevere through extreme hardships in Dar es Salaam, battling the complexities of love, motherhood and societal expectations.
Regisseur:

Seko Shamte

Rolverdeling:

Bertha Robert

,

Magdalena Munisi

,

Helen Hartmann

,

Godliver Gordian

,

Yann Sow

,

Alex Temu

,

Jonas Mugabe

Netflix-classificatie:

6.4/5
Score van Rotten Tomatoes:
NA
Landen waar beschikbaar

Niet beschikbaar waar je woont? Leer hoe je Netflix ontgrendelt en bekijk deze titel.

Beschikbaar sinds:
2022-01-07
Trailer:
Soortgelijke titels:

Korte inhoud:
Binti (12) was born in Congo but has lived with her father Jovial (40) in Belgium since she was a baby. Despite not having any legal documents Binti wants to live a normal life and dreams of becoming a famous vlogger like her idol Tatyana. Elias (11) runs his 'save-the- okapi-club' without the help of his father who's moved to Brazil following his divorce with Elias's mother Christine (42). When their annoying neighbour invites Christine on a romantic trip to Paris Elias upset and angry runs away to his tree-house. At the same time police raid Binti and Jovial's home sending the two on the run and Binti into the path of Elias in his tree-house. When their parents meet shortly after Binti quickly sees the perfect solution to all her problems. If she can match her dad to Elias' mom they can get married and stay in Belgium. Binti joins Elias' okapi club and while they organize a big fundraiser together she secretly starts her plan to make Christine fall in love with Jovial. Until Elias finds out what Binti is really up to.
Andere titels die nu worden bekeken