Set It Off - (1996) - Netflix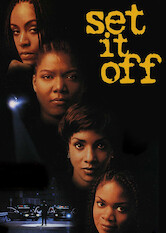 2h3m -
Action & Adventure
Hoe u elke film en tv-show op Netflix kunt deblokkeren, ongeacht waar u bent
2h3m -
Action & Adventure
Fed up with their circumstances, four close friends see a way out through bank robbery until the thrills of their heists attract an obsessive detective.
Regisseur:

F. Gary Gray

Rolverdeling:

Queen Latifah

,

Jada Pinkett Smith

,

Vivica A. Fox

,

Kimberly Elise

,

John C. McGinley

,

Blair Underwood

,

Vincent Baum

,

Van Baum

,

Chaz Lamar Shepherd

,

Thomas Jefferson Byrd

,

Ella Joyce

,

Anna Maria Horsford

,

Samantha MacLachlan

,

Samuel Monroe Jr.

Netflix-classificatie:

6.9/5
Score van Rotten Tomatoes:
70/100
Landen waar beschikbaar

Niet beschikbaar waar je woont? Leer hoe je Netflix ontgrendelt en bekijk deze titel.

Beschikbaar sinds:
2022-01-17
Trailer:
Soortgelijke titels:

Korte inhoud:
Four Black women, all of whom have suffered for lack of money and at the hands of the majority, undertake to rob banks. While initially successful, a policeman who was involved in shooting one of the women's brothers is on their trail. As the women add to the loot, their tastes and interests begin to change and their suspicions of each other increase on the way to a climactic robbery.
Andere titels die nu worden bekeken